About This Webinar
UKAT/LVSA Fourth Cross-national Symposium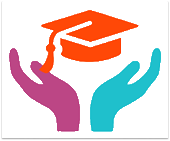 Conversations about caring from the perspective of advising and guidance
Increasingly, universities across Europe acknowledge that they have a role to play in promoting student wellbeing and student success. The notion of the 'caring university' has become common currency.
However, what is caring in the context of higher education? More specifically, how does it inform the daily practice of those who are in an advising or guidance role? That discussion is happening on many campuses, and comes with many new questions and challenges.
This symposium brings together advising practitioner from various countries, and with different roles and responsibilities: study advisors, student coaches, mentors, academic advisors, personal tutors, and others.
By comparing practices and ideas from various countries and educational cultures, together we will explore the notion and boundaries of care from the perspective of our specific professional roles. Through this exchange, we will generate new insights that will enrich those conversations on our own campuses. And in doing so, we will have to opportunity of meeting colleagues from abroad, and making many new connections!
The symposium is free of charge, but participants need to register prior to the meeting. Capacity is limited, so make sure to register in time.
The symposium runs for 90 minutes and is due to finish by 15:00.
About the Presenters
UKAT/LVSA