NACADA Review - Special Edition
Call for Submissions to a Special Issue of NACADA Review
THE FUTURE OF ACADEMIC ADVISING AND PERSONAL TUTORING: THE IMPACT OF COVID-19 AROUND THE WORLD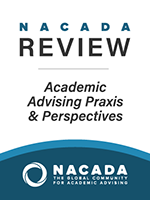 As part of its mission to enhance and develop the scholarship of personal tutoring and academic advising, UKAT is excited to be guest editing another special edition of a peer-reviewed academic journal. This time we are delighted to partnering with NACADA to guest edit a special edition of the NACADA Review academic journal focused on the impact of the COVID-19 pandemic.
Academic advising and personal tutoring around the world has been transformed by COVID-19. Students, staff, and institutions have recognised its importance more than ever before. The opportunities of digital technology have been embraced. Issues of equality, diversity and inclusion have been revealed. Research-informed practice and collaboration has supported higher education to adapt.
This special issue will consider the impact that COVID-19 has had on academic advising and tutoring: both the challenges and the opportunities. It will also explore the future of academic and personal tutoring as we emerge from the pandemic. The special issue will bring together articles from across the world to reflect on the challenges, opportunities, and innovation.
The special issue has been developed in collaboration between NACADA: The Global Community for Academic Advising and United Kingdom Advising and Tutoring (UKAT).
We welcome manuscript article submissions from global researchers based on research and reflection, and discussion and theory papers. We also consider manuscripts based on interview. There are no author costs associated with the publication.
We are especially interested in including papers on the following themes:
Global perspectives
Changing approaches to practice
Equality, diversity and inclusion
Digital technology
Student engagement
Induction and progression
Supporting staff to support students
Scholarship and practice
Leading and experiencing change
We invite you to submit articles in accordance with the guidelines you will find at: https://nacada.ksu.edu/Resources/NACADA-Review.aspx
The deadline for submission is 1 June 2022. Submit here: https://nacada.ksu.edu/Resources/NACADA-Review/Submitting-a-Manuscript.aspx